Wall Mounted Waterproof LED Mirror Front Lights, Modern Simple Design Chrome Framed Bathroom Wall Vanity Makeup Mirror Light
Modern linear design LED bathroom mirror front light lights up and makes the bathroom feel modern and fresh.
The vanity light is made of stainless steel framed with a frosted acrylic shade, and solid construction.
The modern bathroom wall lighting fixtures light is soft. Let you do make-up more naturally.
12W / 9W LED white vanity lights are more bright than ordinary bulbs. Low power consumption and saves your electricity bill. 
No switch or cord on the modern vanity light. Just connect it to the reserved wire directly.
It is perfect for your bathroom, dressing table, mirror cabinets, vanity table, art display, etc.
Light source: LED Chips, Included 
Material: Stainless Steel + Acrylic
Certification: CE, CCC, ROHS
Size:42*7*4.5cm (16.5*2.8*1.8inch) / 52*7*4.5cm (20.5*2.8*1.8inch)
Input Voltage Range: AC85-265V (Globally Applicable)
Power: 9W (included) -12W (included)
Space: bedroom bathroom living room restaurant
Style: Simple Modern Nordic Design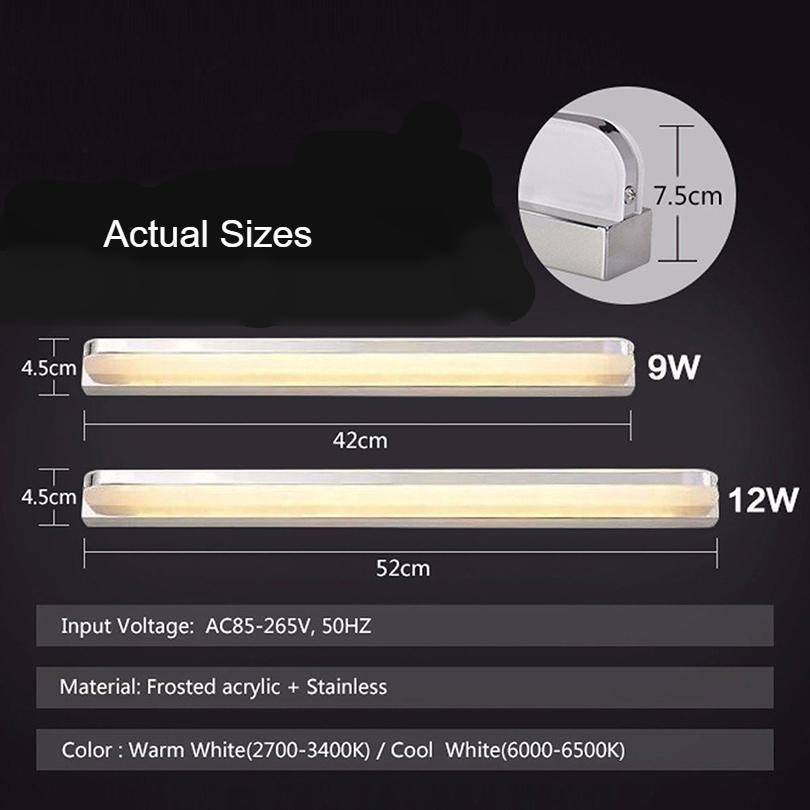 NOTE: You can get a pair of free Non-Perforation Strong Adhesive Plaster for every purchase of this mirror light.
The number of free Non-Perforation Strong Adhesive Plaster is the same as the number of mirror lights purchased.